Gemeinnützige JelGi-Bücher in Bibliotheken BUNDESWEIT!
Gemeinnützige JelGi-Kurse in Kitas, Schulen & Seniorenheimen!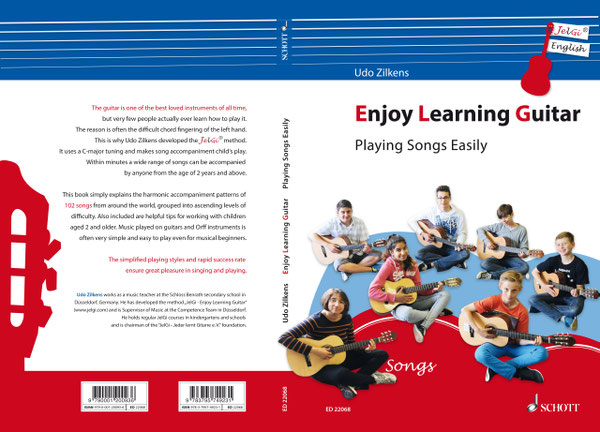 102 Englische Kinder- und Volkslieder
Children's Songs, Folk Songs, Spirituals & Christmas Carols
Schott Music ED 22068 - 14,50 Euro
Zum Singen, Spielen, Begleiten mit Gitarren & anderen Instrumenten
Children's Songs: A Peanut Sat on a Railroad Track - A Sailor Went to Sea, Sea, Sea - A Tisket A Tasket - Apples and Bananas - Are You Sleeping - Baa, Baa, Black Sheep - Bingo - Bow, Wow, Wow - Brahms' Lullaby - Down by the Station - Five Little Ducks - Found a Peanut - Grizzly Bear - Head and Shoulders - Hickory Dickory Dock - Hot Cross Buns - Humpty Dumpty - Hush Little Baby - I am a Musicman - I Hear Thunder - If You're Happy - It's Raining - Itsy Bitsy Spider - Lavender's Blue - London Bridge is Falling Down - Mary Had a Little Lamb - Miss Molly Had a Dolly - Oh Where Has my Little Dog Gone - Old MacDonald Had a Farm - One, Two, Three, Four, Five - Pop! Goes the Weasel - Rain, Rain, Go Away - Ring a Ring of Roses - Rock-A-Bye Baby - Round the Mulberry Bush - Row Your Boat - She Waded in the Water - She'll Be Coming Round the Mountain - Ten in the Bed - Ten Little Indians - The Animals Went in Two by Two - The Finger Family - The Hokey Pokey (Cokey) - The More We Get Together - The Muffin Man - The Wheels on the Bus - This Little Piggy Went to Market - Twinkle, Twinkle, Little Star - Two Little Blackbirds - Yankee Doodle
Folk Songs, Pop & Rock: Amazing Grace - America the Beautiful - Auld Lang Syne - Aura Lee - Autumn Comes - Billy Boy - Danny Boy - Down in the Valley - God Save the Queen - Greensleeves - I Come from Alabama - I Like the Flowers - Kookaburra - Molly Malone - My Bonnie Lies over the Ocean - Polly Wolly Doodle - Santy Anno - Scarborough Fair - Shenandoah - Swanee River - The House of the Rising Sun - What Shall We Do - Whiskey in the Jar
Spirituals: Go Down Moses - Go, Tell It on the Mountain - He's Got the Whole World - I'm Gonna Sing - Kumbayah, my Lord - Michael Row the Boat Ashore - My Lord, What a Morning - Nowbody Knows - Oh, Happy Day - Oh, When the Saints
Christmas Carols: Angels We Have Heard on High - Away in a Manger - Deck the Hall - Ding Dong Merrily on High - Hark, the Herald Angels Sing - Jingle Bells - Joy to the World - O Christmas Tree - O Come, O Come, Emmanuel - O Little Town of Bethlehem - Once in Royal David's City - Silent Night - The First Nowell (The First Noel) - The Twelve Days of Christmas - Up on the Housetop - We Three Kings of Orient Are - We Wish You a Merry Christmas - What Child is This - While Shepherds Watched their Flocks
Bestellung mit portofreiem Versand
"Jeder lernt Gitarre. Neue Lieder im Frühling" ist erhältlich im Buchhandel oder im JelGi-Shop. Oder schicken Sie Ihre Bestellung per Mail an udo.zilkens@gmail.com unter Angabe von Name/Einrichtung, Straße, PLZ und Ort.
Beispielseite und Inhalt